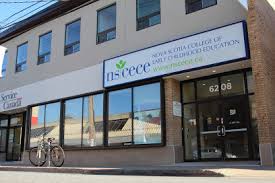 Putting Knowledge into Practice
The Early Years Community Development Centre (EYCDC) is a place where young children and the people who work with them are celebrated and supported. When you visit, you will find professional resources that have been carefully selected to support your learning and help you develop your skills for the complex work you do. You will also find many curriculum materials, toys, and books available for loan so that you can enrich your learning and care environments as you explore topics of particular interest to your children. We aim to provide a place where play, curiosity, and intentionality come together to enrich quality. The mission of the EYCDC is to support the early years community, increase collaboration among early childhood educators, and other early years professionals, and put our shared knowledge into practice.
EYCDC staff are as passionate and committed to this work as you are. We are skilled and knowledgeable early childhood specialists who are eager to engage in conversations about this important work, share ideas, and help connect you to the information and resources you are looking for. The mentoring that is offered by our staff can be informal or it can be designed as be part of a formalized consultation, professional development, and mentoring process.
You will find we offer more than toys and books. We host weekly professional development workshops on a wide variety of topics, and regular communities of practice facilitated by the EYCDC staff and members of the early years community. We are also happy to provide a meeting and workspace for individuals and programs who are interested in collaborating while they have all our resources at their finger tips.
We hope you will find what you are looking for here, and if you don't, we hope you will tell us what you need. Please feel free to look around, explore, and find out what's here, or ask us for a tour. We look forward to meeting and working with you.